I know...doesn't RUBY look really silly!!! Yeah, Ms Bea said
she looked REALLY ridiculous!...But, Ruby just wanted to celebrate...Cinco de Mayo.
Happy Cinco de Mayo EVERYONE!!
now...back to our regularly scheduled program...
Mothers and Daughters...there have been some famous ones.
Can YOU think of some? No...it's not Mystery Monday... so, I won't make you work
too hard...

Judy Garland and daughter Liza Minelli
Ingrid Bergman and daughter Isabella Roselinni


Carrie Fisher and her mom Debbie Reynolds
Lucille Ball and daughter Lucy Arnez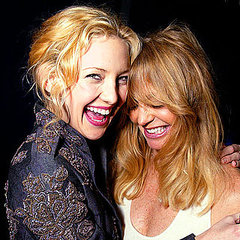 Kate Hudson and mom Goldie Hawn
Then, there are some Mom-Daughter teams that are just a teensy bit less
famous...
I think that you will recognize these next two ladies.
Mariann Fons (of Fons and Porter) and her daughter...Mary Fons
Mariann Fons is the "Fons" part of
Fons and Porter
. Now, that Liz Porter has
retired...Mariann's daughter, Mary, works in the business too...
While doing a wee bit research on the Internet for Mother/Daughter teams...I came across
an article on Quilting Daily called "Mothers and Daughters Together in one Studio"
(click
HERE
for the full article). In this article ...Pokey Bolten (pictured here with her mom)
writes about how enjoyable it was for her to have her mom in the studio to "play" with crafting.
In the article there are several Mother /Daughter teams. They write that "respect and...
healthy boundaries" are very important.
Below are a few more links to mother/daughter teams who seem to work very well together.
They have craft or sewing type businesses...
Crazy Shortcut Quilts
mother/daughter team
.
(left to right)...
1) Fons and Porter newest Quilting magazine
You might be asking... WHY? did she choose these particular items to give away?
Maybe you have a guess? You can still win...even if you don't want to guess. =)
all you have to do is
leave a comment
...
Have you ever worked on a project with your mom and/or your daughter?
How did it turn out? Was it difficult, easy...fun...not so, fun? Do you have any
words of advice about mother/daughter activities?
Drawing will be Friday night May 6th..
Today!
Oh, yep, I'm excited...dancing a jig!..
today.. I'm going to the
HMQS
(it's a quilt show) here in Sandy, Utah!
I'm very excited (did I say I was excited?)... to go with and to meet up with lots of
quilting/sewing friends!... And, one of my daughters is going too!
I will be looking for something(s)
really
fun to...
GIVE AWAY
for my next couple of blog posts! So make sure to check back!
And... I haven't forgotten my "sweet" promise to
GIVE away some...yummy, melt-in-your-mouth
GODIVA CHOCOLATES!...
Yep!...sometime before the end of the week!
*must be a follower to win =)