It's almost the end of February. Are motivations to eat healthier, move more...becoming weaker?
Are new year's resolutions/goals looking dimmer? My health goals can get blurry occasionally. =(
It's

OK

to miss a workout once in a while says fitness expert Tony Horton You can't control everything,
so why beat yourself up about a missed workout or diet slip up?
"It doesn't erase all of the hard work you've accomplished up until now, or mean that you have to start over," says Horton, "just pick up where you left off when you were able to".
My week in the Tacoma, Washington area...was a bit of a set-back for me. I had packed my treadmill clothes/shoes. But, there was no treadmill where I stayed. It was a bit too cold and sometimes too wet to go outside in the early mornings to walk. So for for 5 days, I didn't do any miles. I felt bad for not keeping my routine. But, when I got home this last week... I started on Monday where I had left off the Tuesday week before. Do you ever get discouraged and feel that it's just to hard to get back into the routine? Sometimes, for me, it seems really easy to not push myself back into the routine.
====================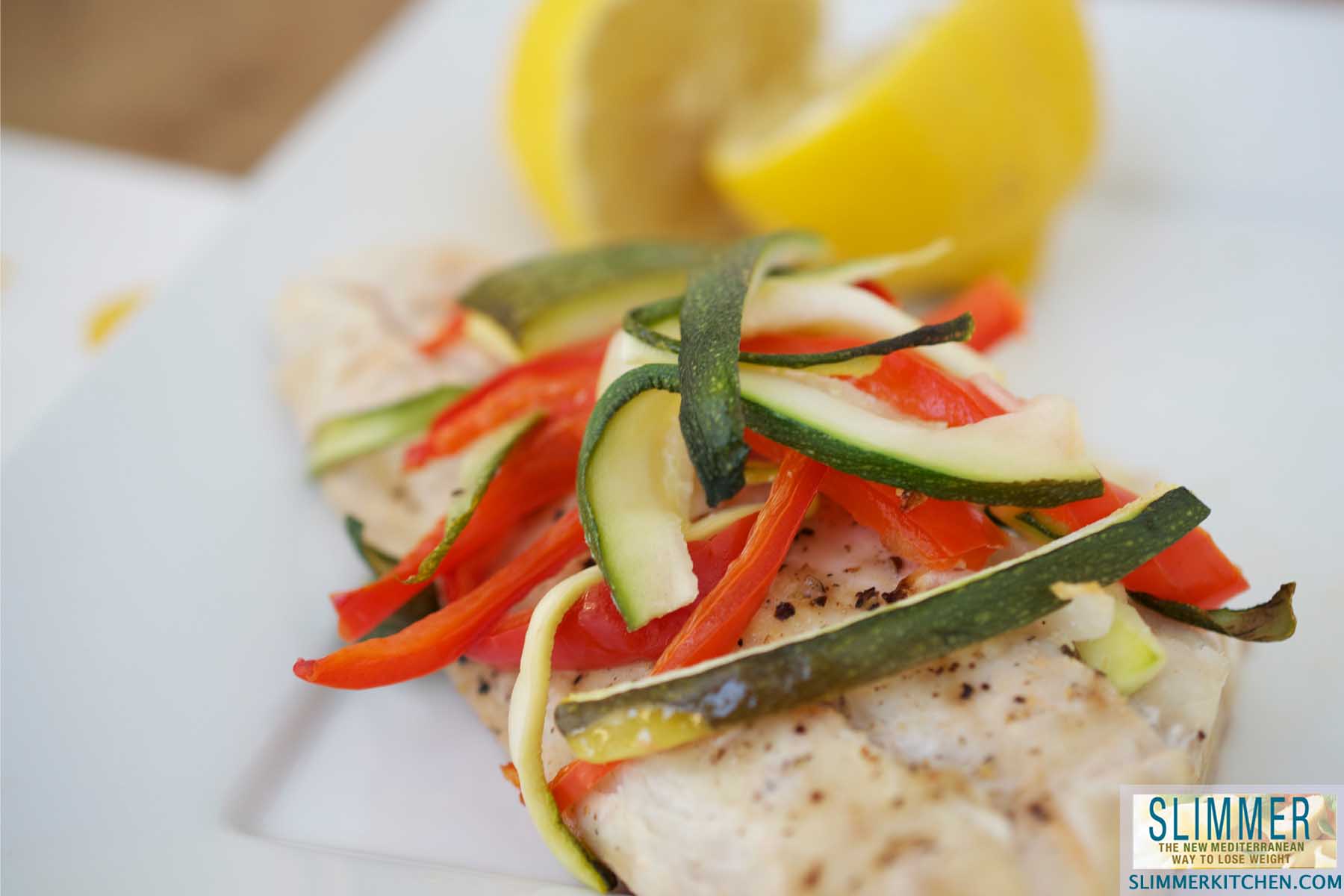 Baked Fish and Vegetables Aegean Style
(recipe from Slimmer: The New Mediterranean Way to Lose Weight by Harry Papas, to buy the book click here)
Serves 2
2 teaspoons olive oil
8 ounces red snapper (or similar white fish like grouper or tilapia)
1 medium garlic clove, roughly chopped
Salt and pepper to taste
1/2 medium onion, thinly sliced
1/2 red bell pepper, seeded and thinly sliced
1/2 medium zucchini, cut into 1/2 inch circles or julienned into strips
3 baby carrots, thinly sliced
2 plum tomatoes, roughly chopped
1/4 cup dry white wine
1. Preheat oven to 350 degrees F. Drizzle the olive oil in the bottom of a medium-size casserole with a lid. Place the fish in a single layer on the bottom, sprinkle the garlic, salt, and pepper over, and place the onion, pepper, zucchini, carrots, and tomatoes evenly over and around. Sprinkle again with salt and pepper, and drizzle the white wine over all.
2. Cover and bake in the oven, occasionally stirring the vegetables to cook evenly, being careful not to break apart the fish, until the vegetables are tender and the fish is cooked through, about 1 hour.
======================
Food - While out of town, I made efforts to curb the bad carbs. I ate lots of salads and fruits.
Exercise - In 12 days of what I "should've" done...I did 7 days of at least 2 miles or more.
Weight(loss?) - I gained 1.2 =(
=================
...if I just get back up and keep trying.
===================
This definition sure explains a LOT!!!