Every now and then, there is an individual who experiences a major hardship or life-altering change who manages to quiet a lot of our own complaints about life..
Annie Clark is just one of those people.
Annie Clark is a first grader from Pennsylvania...But, not just any first grader. She recently won a trophy and $1,000 in a penmanship competition. You might be surprised to learn that Annie Clark's award is even particularly impressive considering she doesn't have hands.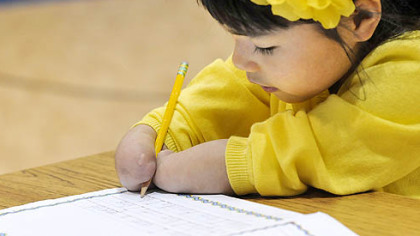 The incredible 7-year-old writes by lodging a pencil between her arms. When she's not winning awards in penmanship, Annie enjoys painting and coloring. She is incredibly independent and needs no assistance getting dressed, eating, or using her computer
What a cute little girl! I hope that she continues to pursue her dreams!