According to many studies....
it is...

A protein source associated with a
great brain boost is fish
-- rich in omega 3 fatty acids, these fatty acids have some amazing benefits...
Several websites listed the following as benefits too.
*help maintain cardiovascular health by playing a role in the regulation of blood clotting and vessel constriction;
*are important for prenatal and postnatal neurological development;
*may reduce tissue inflammation and alleviate the symptoms of rheumatoid arthritis;
*may play a beneficial role in cardiac arrhythmia (irregular heartbeat), reducing depression and halting mental decline in older people.
The omega-3s found in fish (EPA and DHA) appear to provide the greatest health benefits. Fish that are high in omega-3s, low in
environmental contaminants
and eco-friendly include:
*wild salmon from Alaska (fresh, frozen and canned),
*Arctic char,
*Atlantic mackerel,
*sardines,
*sablefish,
*anchovies
*farmed oysters
*farmed rainbow trout and
*albacore tuna from the U.S. and Canada.
Choose fish that are good for you and the ocean. At the
Environmental Defense Fund website
they suggest to choose fish that are good for you and the ocean. You can go to their website to check out the complete list
of
fish that has been
eco-rated
. There you will find more about contaminants such as Mercury and PCBs and get help on what to look for when buying fish.
~~~~~~~~~~~~~~~~~~~~~
Baked Fish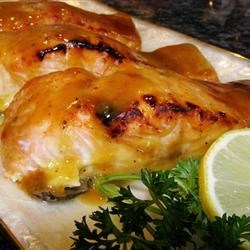 Serves 4