Words to self
..
If I want to be Healthy...I need to cultivate some
Healthy Habits
.
Have YOU ever wondered why
bad habits
so
easily
attach
themselves to us? But, they so difficult to get rid of?
Yet, good habits are just the opposite? It's hard work to
keep the good habits hanging around. =(

I read somewhere once that bad habits are like weeds in a garden.
If we don't pull them at all, they can take over the flowers. When we
do pull the weeds (bad habits), we need to replace the area with good
good habits (flowers). This will keep the weeds from coming back.
...pretty good visual...what do YOU think?
Many books, magazine articles and websites....when they
discuss creating habits, they seem to have several things in common:
(1) To make it a habit...needs at least a 30 days/daily commitment
(2) Start Simple...as you are successful...you can expect more of yourself
(3) Have a Buddy/Friend to help motivate you
(4)
Write down... the specific goal and keep track of progress
(5) Make the activity fun in some way and reward successes
(6)
Create the goal and pursue the habit... for long-term reasons
It's a NEW year!
We can reNEW our goals! We can become
re
NEW
-vinated (like rejuvinated...re-motivated?)
towards a healthier,
NEW
US!!
You can find more great info about habits by clicking on
the links below:
================
Since this is a NEW year for the Saturday's "healthy" posting
on my blog...I wanted to do something fun! There's a NEW
button that will just be linked to Saturdays. And...a NEW title too!
"On My Weigh"
To celebrate, I'm going to do a giveaway!
What do YOU think? Would you like to WIN this?
(Pedometer specs and information
HERE
)
You did say YES...right? Well, if you don't think you would
use this great pedometer, it would make a great gift!
Enter to
WIN
this great
pedometer
by doing the following:
1)
If you leave a comment about a healthy
goal that you have for the new year = 1 entry to win
2)
If you put my new "On My Weigh" button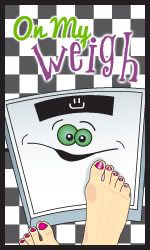 on YOUR blog's sidebar with the link back
to my blog = 4 entries to win
*
please
, leave a
second
comment
that you have put
the button on your blog - to receive the 4 entries
~~ you can have a total of 5 entries...if you do
BOTH (leaving 2 separate comments ~~

Game ends - On Friday Jan 20th midnight MT
Winner will be announced
on Next Saturday's post.

========================
~~ Ruby's Report ~~

Treadmill - After reading some stuff about habits, I went back to my initial
goal/plan - the one when I started exercising on the treadmill last
year. The first priority back then (and now) - to create the habit
of "getting ON" the treadmill 6 days per week. It's not about
how fast or long...just about the habit of getting ON. Once I
establish this routine, I'll set another goal "on top" of the 6 days
per week. After the "getting on"...I can set a goal for a certain
amount of miles or for a certain length of time, etc.
~~This week, I'm happy to report, I DID 6 days straight this
week! You can check the pace and miles that I went by going to
my Daily Mile widget on the right sidebar...towards the bottom =)

Foods - I tried to drink more water at the beginning of the week, but, slacked off
towards the end. I'm thinking that I should do a "water chart" and post
somewhere in the kitchen. I mite do better if I keep track somehow.
Do you have a system to drink more water?
Weight - I'm down 1.4 lb this week!! WAhooo!
================
Kay...Blog Friends...what healthy habit(s)...
are YOU working on? Or RE-working on?
Maybe YOU have some new ideas to
make existing habits stronger?
Sharing your thoughts, ideas, opinions
will be motivating for all of us =)